This post probably contains affiliate links, to items I am in love with, and I am confident you will too! For any health advice I give on nutrition and wieghtloss, make sure you check with your doctor, as I am not a health professional. I am just a mama with lots of health and fitness knowledge and experience.
This shop has been compensated by Collective Bias, Inc. and its advertiser. All opinions are mine alone#ad #GetJohnsonsBaby #ChooseGentle
Getting your baby to sleep longer through the  night can seem impossible in the early months of motherhood. Sleep becomes this commodity we will do almost anything for. I remember with my first baby, he was wide awake in the middle of the night, and I had tried everything to get him tired. I had him swinging for a good hour with music on just staring at him with my eyes drooping shut every 10 seconds. Since the early days, and two babies later, I've found some things that work really well to help get babies to sleep longer through the night. 
MY LATEST VIDEOS
A Warm Bubble Bath: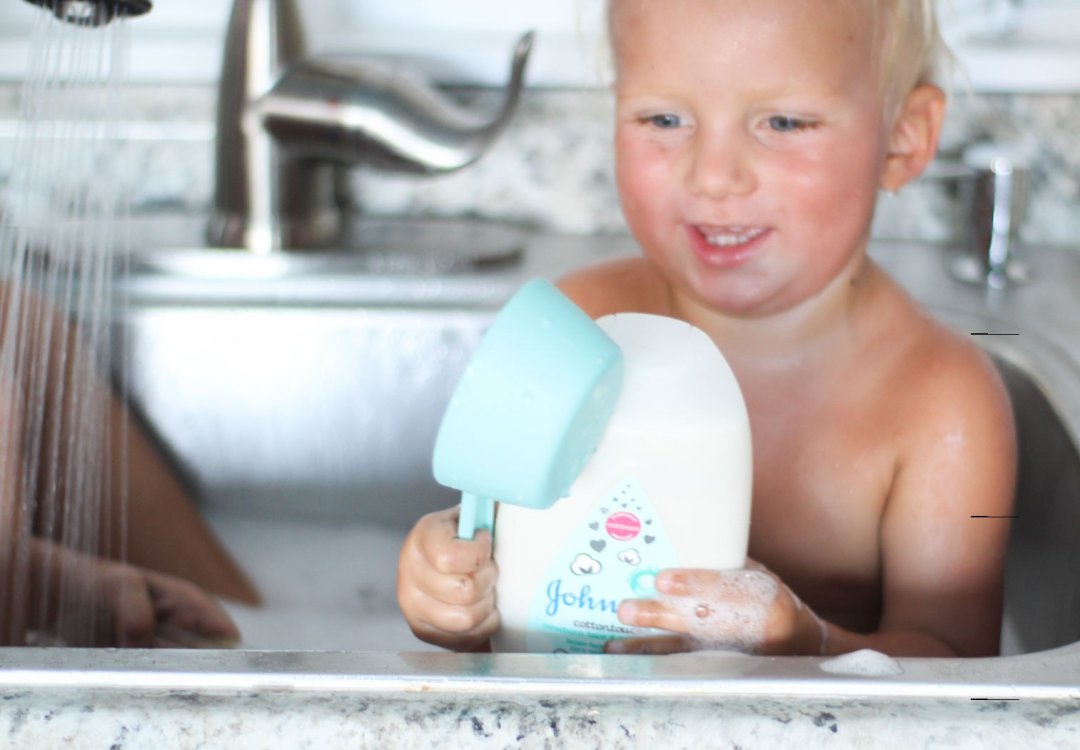 Make sure to click on the item above to shop! This actually makes a huge difference in relaxing the baby, their muscles and allowing for some extra play and bonding time to finish the day off on a positive, relaxing note. I found the JOHNSON'S® Bedtime Bubble Bath, which I think is absolutely amazing for little ones! It has a relaxing NaturalCalm aromas that actually help soothe baby before bed! There are no parabens, no phthalates and it is hypoallergenic! We have sensitive skin, so this is perfect!
I grab it at Target when I go peruse the dollar spot and get stuck on literally every aisle because I love everything! I want to buy the whole store. I am actually a big fan of the sink baths because I can be in the kitchen watching the toddler play or snack, while still bathing the baby. It helps because the kneeling down gets my back! I also use the JOHNSON'S® Bedtime Wash, which I love the JOHNSON'S® products because they are super gentle! We all have sensitive skin, and are swimming in the pool or ocean daily, so we need a gentle, naturally derived soap. JOHNSON'S® now has fewer ingredients, free of dyes and sulfates and higher standards than before. I believe JOHNSON'S® raises the bar when it comes to what's best for our babies, with a commitment to safety and innovation.
Don't miss the sales! From 8/12 – 9/1 if you buy 3 JOHNSON'S® products you get a $5 gift card that is instantly redeemable in-store or on Target.com. 
A Bed Time Chore:
I try to clean up the kitchen before bed time, and I have even my littest one help me start the dishwasher. He know as soon as he sees me load it up that he gets to push the buttons to start it. The sound of it starting on his command is so exciting. He also gets to push the dryer button too. Those little things signal to his brain that it is bed time, and he feels accomplished that he did a good job helping me. I don't know about you, but I sleep a lot better knowing I accomplished something, and I think the same goes for little ones too.
A Bed Time Game:
I love playing a special game while snuggling, and I noticed the last little bit of emotional fulfillment really helped my little ones relax and go to sleep. Seriously, like magic. They loved patty-cake and "what does the dog say?" game. I ask them what all sorts of animals say, followed by lots of animal noises, and they love it. This also helps get them ready for bed because they know after the game comes a song.
A Bed Time Song:
Personally, I believe that a song helps control their mind, so they can't jump around as much in thought and relax. Have you ever had a song stuck in your head, so when you fall asleep it keeps repeating? I think a song time is so helpful, and they fall asleep with the music on their mind, rather than all sorts of other things. Because their minds go to sleep less jumpy, they can sleep longer! I sang all sorts of songs to my little ones, but the Thomas The Train theme song and Jesus Loves Me is a big hit right now.
A Bed Time Massage:
This is one of the most helpful things you can do, to get your baby to sleep longer. It relaxes all their growing muscles! My boys love it when I rub their back to sleep, and they have since they were super little. If you use a great lotion like JOHNSON'S® Cotton Touch Lotion. And get this, On 8/26 there will be an Target in-store sampling of the Cotton Touch and the Bedtime lotions and a coupon will be made available for shoppers! You can go give it a try and see if you like it! I also like the Bedtime Lotion too. Both have a great smell and super gentle on skin. We seriously need lots of lotion with all of our pool swimming here in Florida.
I have a very specialized program for postpartum mamas looking to lose weight, keep up their milk supply and heal their bodies. 
So many mamas are having such success with the program, and let me share what they've said:
"I'm on the 14 day clean eating part and already feel a change.  I love that your program caters to nursing moms. These recipes are boosting my milk supply! Thanks again and can't wait to use the new app!"
"As far as counting calories, yes that was so helpful!… it was an eye opener…But your concept of reducing ever so slightly and monitoring milk supply was so helpful! I have lost 6lbs-yay!- and have 12 more to go!  I am encouraged for sure because it is usually not until  I'm done nursing that I'm able to lose weight. So I'm all in for hopefully the rest of my life-on clean eating like this and exercise! Thanks so much for your help!!"
"Feeling GREAT on this program!!! It's unbelievable how eating clean makes such a difference. Let me rephrase that…it's amazing the difference eating nutrient dense foods makes! My skin is glowing and I'm already shedding pounds! I also tried the first workout today and did well although I had to modify a bit and omit the backwards burpee (I had cesarean just over a month ago and don't quite feel ready for that exercise just yet but I will get there). Loving this plan! Thank you SO MUCH for tour help!"
"The few changes I've made to diet per your instructions is already helping lower my sweet cravings. I'm sure I'll notice an even bigger difference when I get stricter. This week has been great as I feel better, have already lost 2#, and haven't seen a drop in milk supply which was my biggest concern. I look forward to starting the workouts tonight!"
"The baby steps have been super helpful including writing down everything I ate…Another 5 days would be amazing, I was thinking yesterday what am I going to do after the 5 days are finished. You have been incredibly helpful!! I am so appreciative!!!"
My program focuses on specialized nutrition for breastfeeding moms, recipes, meal plans, grocery lists, a new Ab Rehab + Pelvic Floor Restore program, and a new section on going back to work after baby coming soon!
The price is increasing once my certification as a Pre/Postnatal Exercise Specialist and the iOS app is out! Make sure to grab it now, while it is super affordable!