This post may contain affiliate links to items I love, and I am confident you will too! All opinions are my own, however, I may receive a small commission on purchases. As an Amazon Associate I earn from qualifying purchases. For any health advice I give on nutrition and weight loss, make sure you check with your doctor, as I am not a health professional.
Thank you Village Harvest for sponsoring this post. Every day Village Harvest is planting seeds of change and growing possibilities, one bag of goodness at a time.
Making healthy meals always seems way more time-intensive than it needs to be. I get big ideas, or the sensation that it is faster to pop some chicken nuggets in the microwave and throw some carrots and fruit on a plate. BUT, I have figured out some super quick tips to whip up healthy meals in seriously a matter of minutes.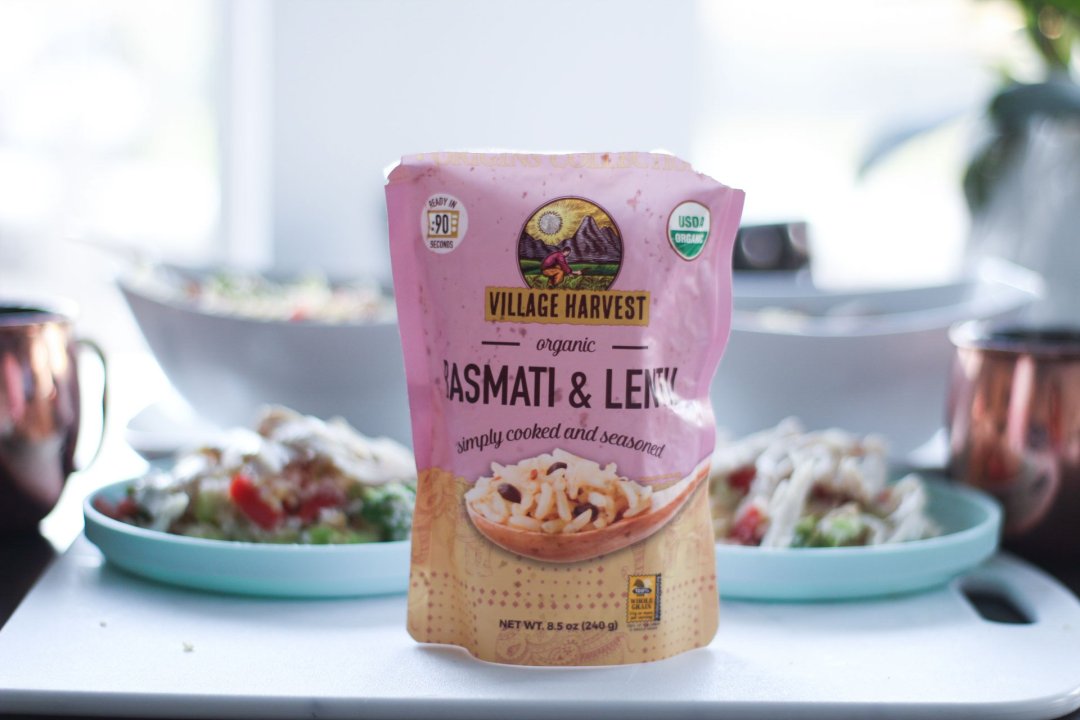 Feel free to shop my favorite rice in the photo above! I use it for my quick and health meals, and it is AMAZING!
First Tip: Rotisserie Chicken
Our local grocery store has delicious rotisserie chicken. Like super good, and very affordable. It is literally just a dollar or so more to buy it fresh and already made. We get two at a time. There is so much you can do with chicken, and my kids love it. All you have to do is cut it up.
2nd Tip: Healthy Rice by Village Harvest
You guys, this is my new obsession! Check out all the amazing flavors above: Basmati & Lentil – India, Lemon Rice – India, Tikka Masala – India, Coconut Turmeric – Thailand, Thai Green Curry – Thailand
Anything with Tumeric is a miracle for your body, and each flavor is so good! I recently read in a book, The Plant Paradox, how wonderful Basmati rice is, so the Basmati & Lentil – India is my favorite – if I have to choose. The flavors really add a lot to your super fast and healthy meal. Above is the Origins Collection, featuring authentic recipes from India and Thailand, uncovered in the kitchens of home cooks and perfected on your dinner table. Thank you Village Harvest for doing the tasty work for me! These are all Organic & Non-GMO, 100% Whole Grain, Gluten Free. Each package takes 90 seconds to cook. That's a secret weapon in my opinion. You just open, squeeze and microwave. Ignite your appetite and discover the delicious side of dinner with Village Harvest Origins, the smart and simple meal solution you can bring to life in 90 seconds.
I LOVE to mix the rice with veggies. It keeps the veggies hidden from my kids, and the veggies also take on the amazing flavor of the rice.
3rd Tip: Microwave Veggies
In addition to the 90 seconds for rice, you can microwave veggies for a few minutes, and mix them with the rice! I usually grab the microwave bags of broccoli and cauliflower rice. By mixing in the cauliflower rice, your kids won't know it is in there, and they will eat more veggies that way! Cover the rice and veggie dish with your chicken, and you have an amazing, and healthy meal in literally minutes.
4th Tip: Fresh Fruit
Fruit is amazing even for dinner! I think fruit is often overlooked for dinner because it doesn't necessarily fit in with the food, but it is a great way to add nutrition, and it takes no preparation at all. Adding it as a desert, or another side dish works really well for my kids. Or, I bribe them to eat their dinner, then they get their fruit.
5th Tip: Buy Pre-Cut Veggies When On Sale
Chopped and diced veggies have saved me numerous times. If you go to the grocery store at the end of the day, you can find more produce on sale. Especially the salad kits. When on sale, they are great deals, and it is the chopping and cleaning that deters me from adding veggies to a lot of our meals. I just don't have two hands with 3 boys running around, so I have to have things I can throw together with one hand. Most stores now have riced veggies that mix really well with the rice!
Meal times, especially dinner can be totally daunting, and so tempting to make fast food. I'm guilty of drive-thru food in an effort to save time and clean up, but in reality, with a few quick steps, healthy dinners are just minutes away! It takes almost the same amount of time to get through the drive through as it does to make this meal!
I was selected for this opportunity as a member of CLEVER and the content and opinions expressed here are all my own.