This post may contain affiliate links to items I love, and I am confident you will too! All opinions are my own, however, I may receive a small commission on purchases. As an Amazon Associate I earn from qualifying purchases. For any health advice I give on nutrition and weight loss, make sure you check with your doctor, as I am not a health professional.
Protein shakes are my secret weapon to increase breast milk and postpartum weight loss. The key to increaseing your breast milk while also losing weight is really nourishing your body properly, more than how many calories you are eating. If you give your body amazing nutrients, your body will let go of fat, produce lots of breast milk and ultimately function properly. It is a natural process to use stored fat to create breast milk, and if your body is properly fed, it will do what it is designed to do!
So many protein powders are way more than protein powders. They are nutritional supplements full of gold. These powders are so full of micro and macronutrients, super greens, super fruits, good bacteria, digestive enzymes and more, it is a no-brainer to add them use these dietary supplements in your diet postpartum. I talk all about the power of protein for your postpartum diet in this post. 
Feel free to check out my list, then read the ingredients to your doctor. I've gone through and chosen the cleanest protein powders I could find that also taste good. Most of them are plant-based, but I do have some whey options in there too. If you have no clue what kind of protein powder you want to drink, I have a guide on how to choose a protein powder too. 
What are the benefits of protein powder to increase breast milk for breastfeeding mamas?
Protein shakes have so many benefits for lactation, weight loss, overall nutrition and health. Many of them, like the ones I have listed here offer clean, organic and tasty nutrients in addition to protein. The top protein powder has milk-boosting properties, fights sugar cravings and nourishes both the breastfeeding mother and baby. Having a supplement like a protein shake that is convenient and simple to blend up is so helpful!!
Here is a quick run down of the benefits of protein shakes:
Fast nutrition
Sweet taste to curb sugar cravings (especially when blended with fresh fruits – yum!)
Nutrient-dense for health and lactation
Satisfying
Satiating
Helps achieve the required nutrients
Combats postnatal depletion
Protein shakes are a one-handed super meal that can help with lactation, IF you choose the right ones. Here is a list of protein powders that can help you stay full, satisfy those sugar cravings, protect your milk supply and lose weight!
What makes a protein powder increase breast milk?
Many protein powders offer more than just protein, which helps new mommies supplement in areas they are lacking certain vitamins, minerals and nutrients. With the help of extra nutrients, nursing mamas can function optimally, which means they can produce more breast milk!
A protein powder supplements for missing nutrients:
Folate
Vitamin B12
Essential amino acids (in protein)
Omega-3 fatty acids
Minerals like Chromium and Magnesium
Antioxidants
These are just a few of the main vitamins and nutrients that protein powders can add to a breastfeeding diet that will help with healthy lactation.
Super foods for increased milk supply:
Superfoods like pumpkin seeds, spinach, berries and Turmeric have been linked to increased milk production, or improved lactation, which many protein powders contain for extra nourishment.
Lactation herbs for increased lactation:
Some protein powders even include lactation herbs like fenugreek, fennel, milk thistle turmeric, oats and more to help encourage an increased production of breast milk. Not all the protein powders have these, because the market is still growing for lactation protein powders, but that is why I created my protein powder!
The 6 safest protein powders to increase breast milk and aid in weight loss:
In my years of helping mamas lose weight while breastfeeding, there was a protein powder missing that was specifically designed for breastfeeding mamas to combat these sugar cravings and fully nourish mamas. I am a firm believer in nutrition for milk supply, so I created Milk Dust. Milk Dust is literally your best friend and the best protein powder for lactation and weight loss. It has a milk-boosting herb blend, plenty of protein, sugar-craving-busting herbs like Tumeric, Cinnamon Bark Root and minerals like Chromium which have all been used to balance blood sugar.
In addition to all these fabulous items. I hand-picked specific vitamins like Folate (L-Methylfolate) because folate is still important during lactation! Almost just as important as in pregnancy. I also hand-picked vitamin B12 for energy, and super foods like Chlorella, Spirulina, Spinach, Blueberries and more natural ingredients. The protein powder is free of soy, gluten, dairy products and corn. It is NON-GMO, Vegan and plant-based!! I highly recommend you check it out if you are craving sugar. It is only sweetened with Stevia, Monk Fruit and Organic Cane Juice, which means there is very little sugar, but it is very sweet, so you still get to drink something like a milkshake!
Let's be honest it's just convenient! Much easier to mix up a shake or smoothie that has all these great things in it then try to keep you fridge and pantry stocked with all the things to help you on your breastfeeding journey. There is no other clean, super nutrient-dense protein powders that are specifically made for postpartum healing, nourishment, lactation and weight loss. Make sure to grab some while it is in stock! 
This is a fabulous protein powder, and my favorite option for breastfeeding mamas. I recently found this powder, tested it and loved it! It might be the best choice because in addition to some AMAZING ingredients, it has digestive enzymes to help you ABSORB the nutrients. It also has TUMERIC!! Tumeric is basically cancer prevention. The company is smaller, where everything is made in California, and they were just on Shark Tank!
It is a terrific clean protein powder for you and baby, with a Superfood and Greens blend that promotes a healthy milk supply. Blueberries, broccoli, kale, pomegranate and more. It is packed with two servings of organic greens in every shake, adding crucial macro & micronutrients for proper cognitive and muscle function. I love their ingredient list, and the vanilla flavor blended with berries or mango is delicious! It also comes in Chocolate, Vanilla Chai and Unflavored, they are all terrific!
This one is also great for moms or babies with food allergies as it is clean ingredients are dairy, gluten and soy free. The good news is there are no artificial sweeteners, which is very, very important to me because I am allergic to sucralose. 
The company offers 10% off your first order, and the price goes down 20% if you sign up for the subscription option,which has no minimums or requirements.
Digestive enzymes and probiotics have seriously been a huge help in healing my IBS, and now I don't have to take the digestive enzymes separately. These are also very beneficial for healing and recovery postpartum keeping your guy in check and things moving properly. I also love the Ora Organics pro and prebiotics.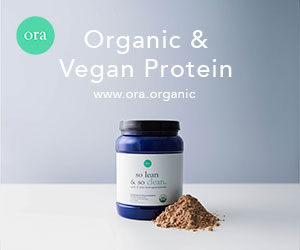 This is a completely organic, plant-based protein powder that has no chemicals or artificial sweeteners. It is full of love for your body and baby. Nothing is going to harm baby, and you will be consuming some super pure pea protein to aid you in your weight loss. A great vegan option, which can be hard to find.
Shakeology sometimes leaves a bad taste in people's mouths because it is associated with the Beach Body Coaches. I hope you can shake them out of your head and look at the product for the amazing, nutrient-dense meal replacement it is. It is actually way more than a protein powder. Like full of your daily dose of essential nutrients like vitamins, greens, fruits, probiotics and prebiotics, antioxidants and digestive enzymes!!
These are so important to help you actually absorb the nutrients you are drinking. Shakeology is a newer product that I've recently fallen in love with, and I wrote all about how it is amazing for breastfeeding mamas and their nutritional needs. I love that I don't need a vitamin, to take probiotics or my digestive enzymes. If you've ever read this post, you will know how important digestive enzymes and probiotics are to me. Super important.
This is about a pure as it gets. This is 100 % grass-fed, whey protein powder. There are no other additives. Not a whole lot of flavor, but it does blend well and you can add sweeteners you like. 25 grams of protein at only 120 calories and no added sugars, you aren't looking to add much bulk either. There's also the benefit of the 5.9 g of BCAAs, which are amino acids, or building blocks for muscle development. The Naked Whey is cold processed, which ensures there isn't any contamination from chemicals, additives and heavy metals. Sometimes keeping to the basics is the best way to go, and this ensures you are getting exactly what you want, pure protein.
This is another pure, 100% grass fed whey protein option that is sourced from Premium Dairy Farms in California. Sourcing from High Quality Grass Fed Cows means a Superior, Cleaner and More Pure Whey Protein that Tastes Amazing! The Chocolate Grass Fed Whey contains Zero Additives, No Added Sugar, Colors, or Preservatives. + Cold Processed, Hormone Free, rBGH Free, GMO-Free, Gluten Free, Soy Free. It is Packed Full of Amino Acids. Each Scoop contains 23 grams of Protein, 3 grams of Fat, 2 grams of Carb and only 125 Calories. They also offer a money back guarantee, so you can make sure you like it!
This is another natural whey protein powder that offers some more flavors. This is an organic, grass-fed whey protein powder sourced from family-owned farms. They have various flavors that are really good including Cacao Bean, Vanilla Bean and Coffee Bean. USDA Organic, non-GMO, Gluten-free and Kosher. It is sweetened Very pure product with a 30-day money back guarantee, so if you don't like it, no problem.
There is your list of safe, natural and clean protein powders you can use to lose the baby weight, nourish your body and keep up your milk supply as a breastfeeding mom!
Do you really need protein while breastfeeding?
Absolutely! I wrote a post on exactly how much protein new moms need, but protein is essential to balancing your blood sugar, maintaining your muscle mass, and keeping you full. We all know breastfeeding hunger is REAL, and protein is a great way to help keep that hunger controlled. Baby also gets protein passed through from breast milk, so it is important to help baby get protein by consuming enough protein as part of a healthy diet, and protein supplements can help.
Many of us don't get enough protein normally and with the added demands of breastfeeding you need more and all of the above protein powders offer a great way to get it into your day. Not to mention blending up a protein shake is an easy way for busy moms to take care of themselves and baby with little added stress.