This post may contain affiliate links to items I love, and I am confident you will too! All opinions are my own, however, I may receive a small commission on purchases. As an Amazon Associate I earn from qualifying purchases. For any health advice I give on nutrition and weight loss, make sure you check with your doctor, as I am not a health professional.
This shop has been compensated by Collective Bias, Inc. and its advertiser. All opinions are mine alone.  #RegisteringForBaby #CollectiveBias
Sprinkle showers are so much fun. I love them because it's more of a chance to get together with friends, celebrate more blessings and babies, and  eat yummy treats. My sister is due with her third baby girl any day now. She has twin two-year-olds, so I can tell her from experience, she's in for a real treat with toddlers and a baby. Her life will be no-joke hectic in the next coming months, so we planned a simple, unforgettable sprinkle shower to help lift her spirits as she weights patiently for her new angel to arrives soon!
Let's get to the details on how to make the sprinkle shower unforgettable.
First, go simple and pretty on decor. This doesn't need to be an all-out bash like a first-baby shower. A sprinkle shower is meant to be simple, fun and a reason to get mama out and socializing. I did a small buffet table with paper decorations, and I used some of the gifts to fill the table.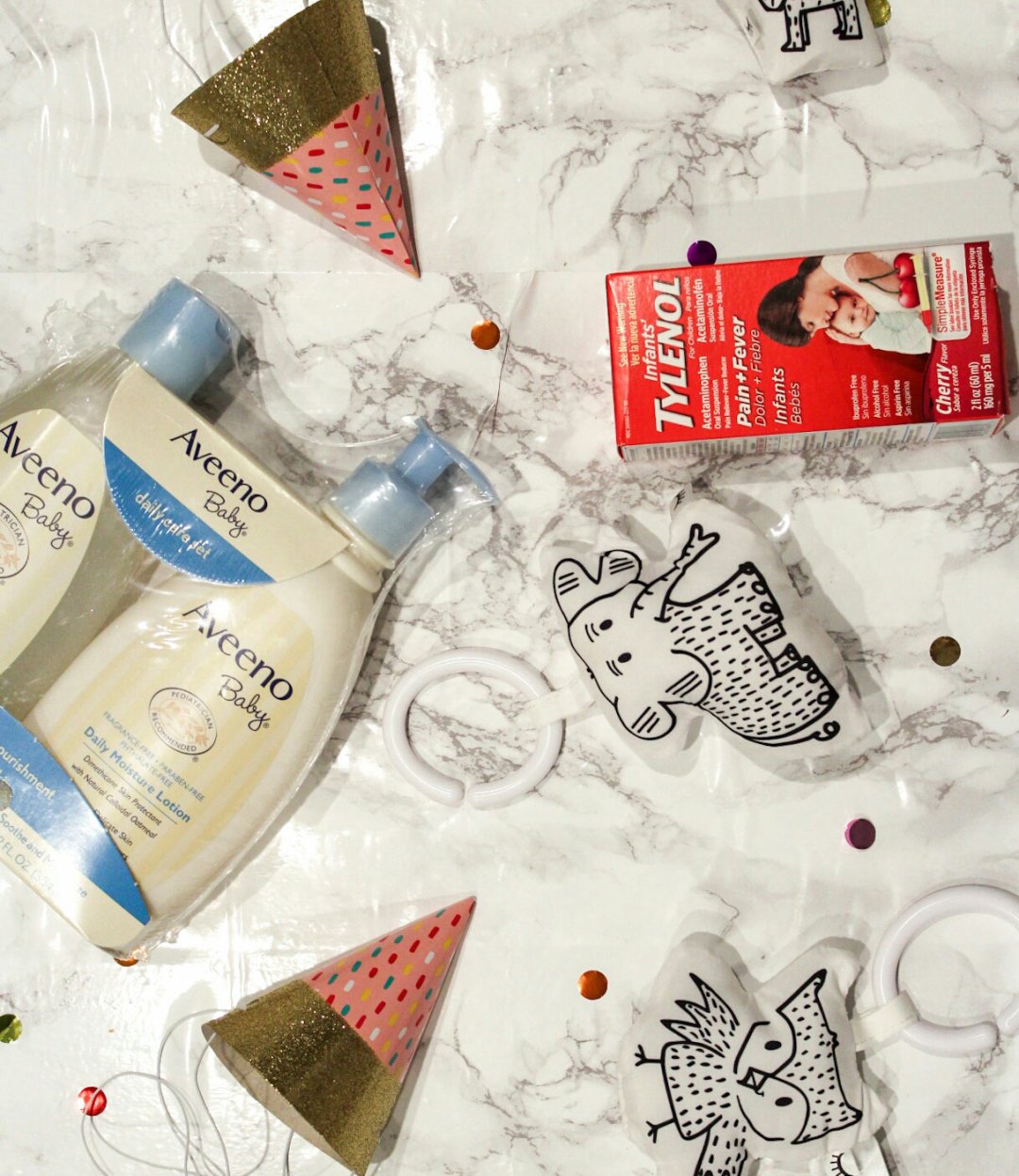 Be sure to click on the photo above to shop the items I grabbed!
Second, create a fabulous baby registry. I created a registry for my sister at Target. I chose Target because it is so easy and simple to use, and my sister is a big Target fan. In fact, once you register quickly online, the registry pre-populates some great Johnson and Johnson items for you. I'm a fan of a personal shopper, so it was a relief that some items, like the Aveeno® Baby Daily Moisture Regimen Pack and Infant TYLENOL®  2oz. Cherry were already there. The process was simple, and I added some great items for a mom who already has a lot of baby items already.  Here's a screen shot of what you'll see when you go to set up the registry. There's an app, which is very convenient and a checklist to make sure you remember everything.
Sign up for the Target baby registry to get started!
Third, make sure you add the right items to the registry. On the sprinkle registry, I added lots  of newborn necessities like the Infant TYLENOL®  2oz. in Cherry, onesies and hats, which you can never get enough of. Then, I also added items for the siblings. One thing I remember having a baby with a toddler is you need more things to keep the toddler busy. I also added a baby carrier for her because she has a twin baby carrier, but not a single. A new swing, a small, single stroller for when she is at parks and her older two can run around, but she doesn't want to push that baby in her double stroller, receiving blankets, burp clothes and other items you can never get enough of filled the registry for her.
Fourth, bring the siblings into the party. I wanted to make it exciting and memorable for my nieces, so I got them the cutest little ice cream cone pinata to hit. They weren't interested in hitting it as much as holding it and looking at all the paper. They loved the decor and treats too.
Fifth, use cravings as food inspo. My sister loves ice cream and craves it while pregnant. I combined that with the sprinkle theme to serve ice cream cones and cake as the treats. Cravings are a big part of pregnancy, so satisfying those cravings at the sprinkle shower is a great way to make it unforgettable!
Sixth, get something photo-worthy for new baby. I got this angel outfit that I used as part of the decor, and a memorable outfit the new baby can wear for photos. When she is looking to precious in her tutu, crown and wings, there's no way my sister will forget her sprinkle shower! Its a great way to bring more meaning to the shower.
Lastly, keep it small and meaningful. At this point, being pregnant again, when you already have kids, mama might be feeling less-than social. I didn't want to plan a big shebang where my sister would have to feel pressure to be full of energy when she's on her last few weeks of survival. Literally, waddling after toddlers isn't motivating to party. Offer treats, gifts and a few favorite people, and you can't go wrong at all.
Make sure to sign up for the Target Registry or grab the Aveeno® Baby Daily Moisture Regimen Pack or Infant TYLENOL®  2oz. Cherry if you need a practical gift!